Explore Joanne's Book Catalog
Dreams can be as vivid as reality, making us question what is true and what is imaginary. What secrets do dreams reveal about ourselves? How do we interpret our dreams? Do we dream about events that will inevitably occur, or are they just shades of things that may come to pass? Dreams are also aspirations for what we want to become. They provide the inspiration we need to improve our lives. Without our dreams, we'd lack hope and become purposeless.This anthology from the Space Coast Writers' Guild (SCWG) is a collection of stories and poems about both kinds of dreams: the visions we have while asleep, and the hopes we have while awake.

SPECIAL DEALS from Joanne's Catalog!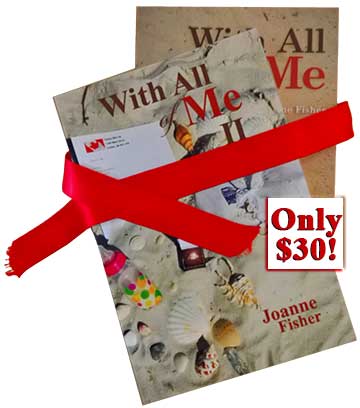 GET the complete saga in this Special Deal Package!
We are very excited to offer this special soft cover bundle of Joanne's sweeping romantic saga:  "With All of Me " & the sequel  "With All of Me II"!

 
 Order Your Bundle Today. Only $30!
PRIMO, the largest independent national magazine for and about Italian Americans, provides quality journalism on Italian American history, heritage, and achievements.
"The Devil of Saint Gabriel" is the latest novel from Joanne Fisher. And, thus far, her best. The novel contains all the elements of a top crime thriller.  Readers will get an idea of what awaits them just by reading the author's dedication "to all the Catholic priests who give of themselves day after day, night after night, year after year, asking nothing in return."
 Hence, the setting is the parish of Saint Gabriel Catholic Church in Mississippi. Father Nicholas Jones, originally from South Africa, leads the tight-nit flock. One parishioner, Tammy, volunteers at the Jefferson Correctional Center, a women's prison across the border in Louisiana. There, she leads Bible studies and prayer services. The novel begins with a ministry meeting of potential converts behind bars. Past crimes range from manslaughter to narcotics. Tammy's knowledge of Scripture and her graceful spirit wins over the women, many of whom come from evangelical backgrounds. She mentors one inmate, Lucy, who shows promise of conversion and does particularly well at Bible study and learning the faith. When released from prison, she moves in with Tammy and "registers for Rite of Christian Initiation for Adults at Saint Gabriel." Trouble begins after Lucy faces prejudice from other parishioners because of her criminal past. She finds solace and support from Father Nicholas and the two grow closer.
Joanne develops characters by slowly divulging their inner demons through dialogue. We don't know their true intentions until the end. Lucy is both sympathetic and complex. She is kind and gentle and at other times selfish and manipulative. She is both the victim and victimizer and we are not sure until the end about her motivations. The same can be said of Father Nicholas. He seems the dutiful priest, sincere and upstanding, while at other times, he is equivocal and naive.
"The Devil of Saint Gabriel" moves in various directions as more characters are introduced. The people of the parish come from different backgrounds. How they cope with what looks to be a scandal involving Father Nicholas leads to several intriguing twists and a shocking ending.
"The Devil of Saint Gabriel" is an important book in light of recent Church scandals. Joanne is commended for writing a book about the faith in a fair and knowledgeable light. There are many challenges facing priests today as they manage the faithful. The struggle is to strike a balance between saving souls and saving oneself.

Ask Joanne a Question!
Would you like to ask Joanne a question about her current book, upcoming events or new books in progress?  She would love to hear from you!
Our Privacy Statement
& Contest Rules