Explore Joanne's Book Catalog
JUST RELEASED:

Vendetta in Viera
Another Sid Daniels Suspense
A much-loved President is publicly assassinated just before a major Presidential election. His running mate Amena Winston becomes the first female black President as a result. But during the lame duck session, nine of the President's nemesis and enemies begin dropping like flies. Every single law enforcement agency in the country scramble to solve these murders while dealing with international bureaucracy and American red tape. But Sam Anderson, who was POTUS' closest Secret Service Agent and best friend, has an ace up his sleeve, Sid Daniels, who is called to DC to assist with solving these soon to be cold cases. Meanwhile, in the fast-growing Florida city, Viera, a young run of the mill soccer mom is out for revenge which she gets in a very gruesome way. In the midst of twists and turns, our most favorite retired detective, Sid Daniels, makes yet another re-appearance. Will he solve these cold cases? Or has he finally met his match? Only one way to find out.  This riveting political thriller will have you on the edge of your seat while your mouth waters for a killer Risotto.
Ten-year-old Nora Benito watches in horror, as her mother is torn away from her in a life-changing few moments. The trauma she suffers shouldn't happen to anyone, never mind her being such a tender age. The pain she endured will last a lifetime, evidenced by the slap in the face she received when, as an adult, she hears an unmistakable voice from her past.
Giacomo Rinaldi is a controlling, conniving Aussie, who links the two Melbournes in opposite corners of the world, with three homicides. Years later, with a new identity as Jack Reynolds, he's on wife number two. In her newlywed rapture, she has no idea about just who her doting husband is, and what sordid background he has.
Sid Daniels is a retired detective from Mississippi who just can't manage to keep his fingers out of the pie. Cold cases just seem to fall into his lap. Returning from The Devil of St. Gabriel, Sid gets thrust right into the middle of a case. Only thing is, this one has personal ramifications.
Follow Jack and Sid in a game of cat-and-mouse across two continents and two hemispheres. Will Sid manage to bring Jack to justice? Will Nora ever get closure? There's only one way to find out!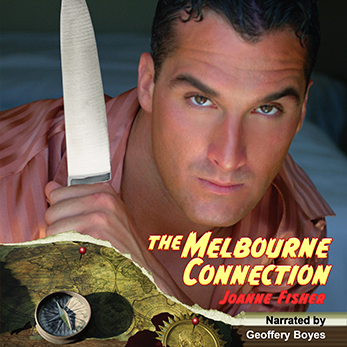 Valdosta, Georgia – 1863. While America is ravaged by the chaos of the Civil War, Magnolia Mae (or Maggie, as she is lovingly called) suddenly becomes a young widow and inherits her parents' plantation.  Surrounded by scheming neighbors, connivingly jealous southern belles, and unscrupulous people; Maggie is a sparkling diamond in the mire of prejudice and hatred.
She repays with love, kindness, and compassion. A staunch abolitionist, she treats her slaves with dignity and respect, ignoring the centuries-old tradition of oppression and bondage. 
When a handsome young Yankee named Wesley appears, he tosses her into a tumultuous sea of passion, delight, anxiety, and unshakable defiance of the ways of the South.
Find out what happens when a forbidden love challenges the evils of slavery and bigotry. This riveting page-turner takes you to a land devastated by war where forbidden love blossoms.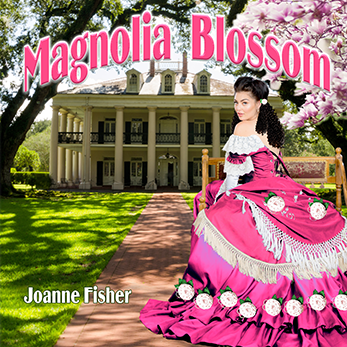 READ
the PRIMO Magazine Review of "Magnolia Blossom"
The beautiful, seductive and ruthless Lucy has a rap sheet as long as her golden blonde hair. She will do anything to stay out of jail and although her intentions are good, the devil inside her takes over and has her undertaking continuous acts of evil.
On the other side of the spectrum, Nicholas, being a man of God, is naive and hopes to lead the sultry Lucy to the light of his God. But the devil of St. Gabriel has other plans.
This thrilling suspense novel is merciless, twisted but absolutely gripping with a riveting ending that will bowl you over!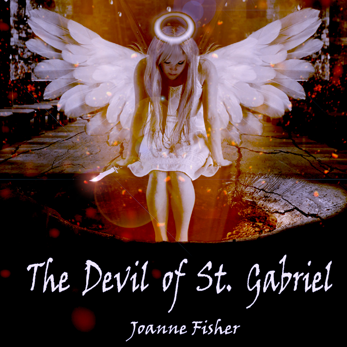 Good Things Always Happen In Springtime
Germany, 1938: two young people find each other and discover true love. They must keep this love a secret—from family, from friends, and from the Nazis. She lives in the Jewish Quarter and he lives in the city proper.
Charlotte, a young girl of 15, wanders into Georg's cobbler shop to have some shoes repaired. Georg, enamored by Charlotte's charm and grace, decides right then and there that he is going to marry her.
Follow along as his pursuit of the young Charlotte results in the couple traveling a heart-stopping, winding route to stay one step ahead of the Gestapo in their escape from Nazi Germany to the United States, with a surprising twist along the way!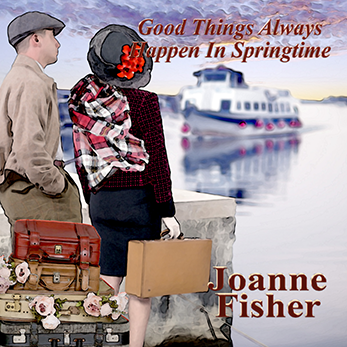 Fiore is a young Italian woman engaged to be married but her plans are interrupted by a charismatic Sebastián, a handsome middle aged Spanish businessman. 
Her beauty strikes him like a thunderbolt sent by the goddess Venus herself. When she is given an peculiar gift: a Spanish doll, she is thrown into a whirlwind of entangled passion, money, secrets and love.
Their romance sparks in a charming little Italian town located on the southern part of Lake Garda in northern Italy and takes them around the globe. What happens when her life is suddenly shattered by a life-long secret?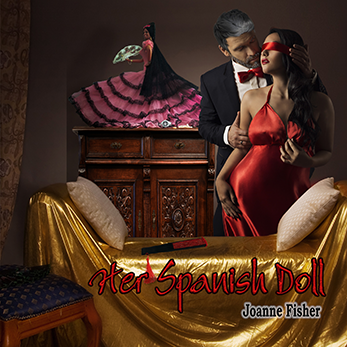 Giuliana is a middle-aged housewife in Toronto. She tries to balance a career, a husband who has little interest in her well-being, and three children. In the evenings, she gets on her computer and chats with people all over the world.
Among the people she chats with, she becomes romantically involved with Aaron, who lives nearby and Bobby in California.
Her life becomes like a pinball bouncing between her husband, her job, her children, and her two online loves. She is bewitched by the romantic poetry of Aaron and the honesty and kindness of Bobby, that takes her all the way to California.
Watch for the ironic twist of fate that takes her in a direction that she never expected!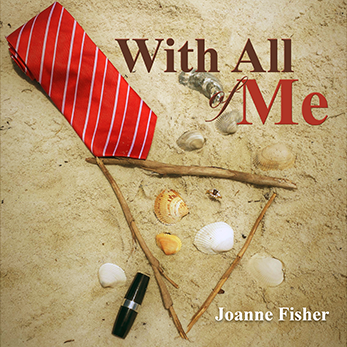 Mature & curvaceous Giuliana faces the consequences of having two online lovers: the insanely jealous Aaron, and the sexy (and very attentive) silver fox, Bobby.
To make her life more complicated, she must weather the wrath of her husband Rocco who has confirmed his suspicion and uncovers a deep, dark secret.
And there are more secrets to hide! Can Giuliana survive this tsunami of impossible situations? Will she be able to rebuild the life she once had, or will the burden of the past prove too much?  Is there even a happily-ever-after in her future?
This collection escorts readers to several different countries and time periods while encountering diverse personalities. You'll enjoy reading about Wally; an adorable little Dachshund who tells his tale from a dog's perspective. And about a sexy and seasoned Sugar Black, a popular country music singer who falls for one of his life-long fans. Little Victoria, whose porcelain doll conveys true love to her mother. Then, you'll come across Benton Falls in the mid-1800s; a small town in Montana where Ben and Carrie-Ann will become united with a little help of an ingenious Mrs. Martin. Oh, and let's not forget about Omar, the Arab Prince and Paulina, the Venetian Princess who fall for each other in a modern-day venue:  a Masquerade Ball. You'll be enchanted by these stories and you won't be able to put this book down!
SPECIAL DEALS from Joanne's Catalog!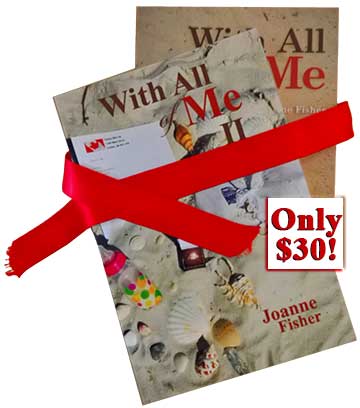 GET the complete saga in this Special Deal Package!
We are very excited to offer this special soft cover bundle of Joanne's sweeping romantic saga:  "With All of Me " & the sequel  "With All of Me II"!

 
 Order Your Bundle Today. Only $30!

Ask Joanne a Question!
Would you like to ask Joanne a question about her current book, upcoming events or new books in progress?  She would love to hear from you!
Our Privacy Statement
& Contest Rules