INTRODUCING for 2022 Holidays

: Christmas in Milan
In the cut-throat world of Italian Fashion, Emma, a young curvaceous designer from Scotland, is taken under the wing of one of the most popular and successful Italian designers, Claudio Valenti. An intense romance between Emma and Claudio's only son, Ettore, ensues.
But there's trouble on the horizon when the top model of the Valenti Atelier, Grazia, is determined to shatter this newly blossomed love with the cunning power of beauty and deceit.
Will Emma make it in this fascinating Italian city? Or will Grazia throw a monkey wrench into her plans? A master of the intricacies and unexpected surprises of life, Joanne Fisher does not disappoint in the fourth novella in her Christmas in… series.
Agatella Angiolini is a ten-year-old girl who lives in Rome with her mother, Ilaria, who suddenly dies in a tragic accident leaving young Agatella an orphan. But Agatella is far from alone. She has her grandparents, Stefania and Carlo, who attend to her every need. She also has Carlotta, her mother's best friend who is now her foster mother and hell bent on finding the girl's father.
 But there's a problem—actually, three: Michael, Christopher, and Matthew, each of whom could be her father. And on top of that, they are an ocean away.  Can Carlotta find Agatella's father? Will he take responsibility for this young motherless girl? What will happen if all three men grow to love this precious Italian girl? Will she be taken away from her grandparents and Carlotta? Will she be able to continue living her life in Rome? Will Carlotta find love with one of the potential fathers? Only one way to find out!
Dante finally finds the job of his dreams: working in Italy and learning the language but when the Coronavirus hits Italy, his world is turned upside down. The only person who gets him through it is Serenella, and all he needs to do is step out onto his uncle's balcony and there she is!
On top of dealing with COVID-19, there are other wrenches that are thrown in their midst during this odd year of 2020. How will the year end for Dante and Serenella?
Only one way to find out!
Tiffany has a very rare talent: she's a Master glassmaker and her talent grabs the attention of a dying Venetian Master glassmaker who bequeaths his Murano glass shop to her. This is the opportunity of a lifetime! This Murano shop is right, smack in the middle of St. Mark's Square. Her dream, however, is interrupted by a fascinating, charming Venetian man of blue-blood, Massimo, and by the multiple adventures she becomes entangled with along the way. Escape to "La Serenissima" while reading this book and encounter many scrumptious original Venetian recipes to challenge your culinary skills.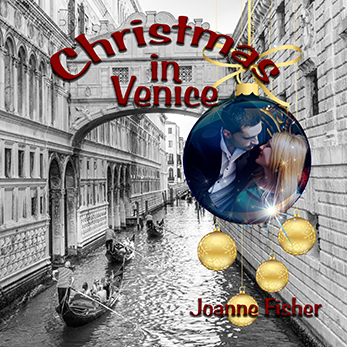 Ask Joanne a Question!
Would you like to ask Joanne a question about her current book, upcoming events or new books in progress?  She would love to hear from you!
Our Privacy Statement
& Contest Rules