Interviews, Reviews & Videos
First Edition 2023

Primo Magazine

Reviews Joanne's "Christmas in Rome"
Joanne Fisher deserves the prize for busiest Italian American author. Of Calabrian origins, with expresso in her veins, she is indefatigable in the pursuit of prose.
Joanne's latest novel returns her fans to Italy.  Here is a tale of romance to encompass the joys of Christmas, as titled "Christmas in Rome."    
So, You Want to Write a Novel!
Published author, instructor & public speaker Joanne Fisher invites you to join her as she presents tips, information & "insider experience" of how to break into the amazing world of Authorship!  Joanne's book catalogue includes:  Romance, Historical Fiction, Murder Mystery, Travel Guides, Short Stories & more!
Saturdays
10am – 12pm
Beginning
March 11, 2023
at Franklin T. DeGroodt
Public Library
6475 Minton Rd SE,
Palm Bay, FL 32908
January 2022: primo Magazine Reviews 'The Melbourne Connection' !
THE MELBOURNE CONNECTION By Joanne Fisher
Published by Joanne's Books
F&L PRIMO / FIRST EDITION 2022 / 59
We're getting close to traveling the world in the many characters and unique plots of Joanne Fisher. We have gone from Louisiana in her novel, "The Devil of Saint Gabriel," to Northern Italy in "My Spanish Doll" to titled destinations in "Christmas in Venice" and "Christmas in Florence." Now comes an entirely new location for fans of Miss Fisher in her new, riveting suspense novel, "The Melbourne Connection." For geography enthusiasts, Melbourne might mean the large metropolis in Australia or the small seaside city in Florida. Both locales are keenly included as key settings in the novel. "The Melbourne Connection" is a serious departure from the romance fare often offered by Miss Fisher. Here, she delves into the violent underpinnings of domestic abuse. She takes on the mind of a psychotic to convey a police investigation to uncover murders on an international scale. The novel begins in Australia's largest city, Melbourne, home to a little more than a quarter of a million Italians. As Italy remains an outward migratory country, Australia has become a new destination on a par with America for Italians to seek a better life.
Fausta Benito is one such character from the novel, who was born in Australia to Italian immigrants, to now become fully assimilated to speak the Aussie dialect. By all measures, a pretty woman, she marries high school heartthrob Jack Rinaldi. The couple begins to settle down to start a family. However, Fausta soon discovers Jack's explosive temper to suffer cuts and bruises from his continuous assaults. After one too many beatings, she takes the money from their savings account to escape to America with best friend, Carly McIntyre. The final destination is Melbourne, Florida, where Carly, an engineer, will begin a new job for NASA. Meanwhile, Jack is arrested for disturbing the peace but must serve a longer prison sentence when he attacks other inmates. When released after 10 years, he sets to find Fausta to exact his revenge. As Fausta settles down to a new and better life with Carly in America, Jack is without work or money in Australia. The police begin to take notice of his whereabouts when they discover the body of dead woman with a connection to Fausta. Can Jack escape the pursuit of the police? Will he find Fausta? How the countries' police departments work together will intrigue fans of crime sleuths. As she has in her other novels, Miss Fisher conveys a world that is fast becoming a smaller place. "The Melbourne Connection" is an excellent novel where good and evil, love and redemption play out on a global scale.
"Christmas in Venice," by Joanne Fisher, published by Joanne's Books, available at Amazon.com
PRIMO, the largest independent national magazine for and about Italian Americans, provides quality journalism on Italian American history, heritage, and achievements.
It is impossible not to enjoy reading "Christmas in Venice," a beautifully written new book by Joanne Fisher. The author's underlying message is undisputed: Venice is the most romantic city, ever.
Joanne Fisher is no stranger to writing romantic fiction. Her novels convey the dreams of all women where a modern day prince is found in the most splendid settings. "Christmas in Venice" does not disappoint as all the enchanting beauty of Venice is on full and tantalizing display.
"Christmas in Venice" begins as Tiffany Washington makes her trek from America to Venice to take over the reigns of an old glassworks business there. From the moment of her arrival, she falls prey to the city's timeless charm and sees, "Venice a thriving, living creature but frozen in time like an antique clock that had stopped ticking."
Tiffany is dedicated to making her business thrive. Yet, things get off to a shaky start when she is confronted by the city's labyrinth of regulations. Inspectors visit the shop prior to opening day with permits to be completed and stamps and fees to be paid. The author conveys Tiffany's feelings when, "At that moment, she hoped that she would make enough money to pay the City of Venice for the very dear property she would be owning one day. Between one tax and another fee, she felt like she would have to hand over everything she made to the City of Venice. She simply nodded."
As Tiffany immerses herself in glassmaking, she is visited each morning, with espressos in hand, by Massimo Bussetto, owner of a nearby cafe. Handsome, friendly and possessing a unique charm inherited from his noble blood, Massimo is a good match for Tiffany's natural American beauty. The two begin a courtship that takes them to all reaches of this majestic city. In one scene, "As they strolled along the Grand Canal, the breeze was strong enough to rock the gondolas back and forth while making ripples in the water…Venice was just enchanting in the evening as it was in the day. Tiffany never got tired of it."
What would a romance novel be without an interloper or two to mess things up. Enter Massimo's mother Celia, who we learn is just like all Venetian mothers to "live up to their blue blood standards and fully expect their children to do the same…" Will the romance survive as differences in class and culture take hold?
Joanne Fisher has given us a delightful new book in "Christmas in Venice." As the title suggests, this book is a Christmas gift to be enjoyed all year long.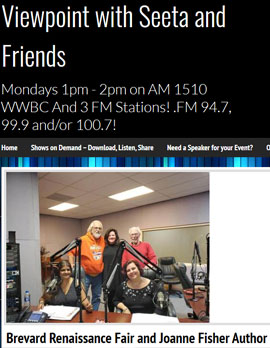 Viewpoint with Seeta & Friends Radio Inteview with Joanne! 
Seeta & Friends broadcasts Mondays 1pm-2pm on AM 1510 WWBC & 3 FM Stations (FM 94.7, 99.9 & 100.7)
January 6 2020, the first Viewpoint with Seeta and Friends for the year! Join us today to talk to some great people. It will be fun and unscripted and you will be inspired! Tune in at 1pm on AM 1510 wwbc and 3 FM stations 94.7, 99.9 or 100.7 in Brevard for the. Est hour on Radio! Meet Joanne Fisher! Joanne Fisher is a Canadian-Italian-American author. "The Devil of St. Gabriel" is Joanne Fisher's first murder mystery. We cant wait to hear how this great author got started and to hear all about her successes! 

Joanne's short story "Her Spring Date" is featured on 
Brevard Author's Society Writer's Corner
!  Brevard Authors aspire to achieve the highest level of literary creativity and craftsmanship in writing poetry, prose, drama, comedy, fiction and non-fiction for the benefit of their fellow man.  They serve as a force of encouraging and inspiring writers to promote writing as an art of skilled word weavers in the pursuit of recognition.
Watch Joanne's interview with Brevard Author's Society!
PRIMO, the largest independent national magazine for and about Italian Americans, provides quality journalism on Italian American history, heritage, and achievements.
Joanne Fisher continues the romantic saga of Giuliana in her new novel, "With All of Me II". The story highlights the new world of social media at odds with the old-world values of Italy. Although born in Toronto, the author spent much of her early life in Lake Garda after her parents returned to Italy. She comes to her writing with two cultures in mind: Canadian and Italian. In Joanne's previous novel, "With All of Me," readers were introduced to Giuliana, an Italian-Canadian woman who lives with her husband Rocco and three children.
In "With All of Me II", Giuliana rekindles a relationship with Bobby, a man from California, who also is married and has children. A dilemma arises when Giuliana finds herself pregnant and is not sure the identity of the father. Could it be her husband Rocco? Or, perhaps, Bobby. Giuliana gives birth to a baby girl, Sabrina, who looks nothing like her other children. Suspicious, Rocco orders a DNA kit online to decipher the girl's paternity.
Meanwhile, Bobby flies out to Canada to meet with Giuliana after seeing photos of Sabrina on social media. He is convinced the girl is his biological daughter. All goes awry when the DNA results are reported to Rocco. Now, there is no hiding the affair. Giuliana is faced with the guilt of her infidelity and the added burden of divorce and dismantling of her family. The author claims the character Giuliana was invented after she too faced dramatic changes in her own life.
Joanne said in an online interview with PRIMO, "At one point, I was like Giuliana: I had multiple online friends and most of them were men. I was also going through somewhat of a mid-life crisis which was hardened by my ex-husband wanting to return to Italy. As I wrote, the plot became quite spicy and convoluted, but at the same time, quite interesting." Giuliana's betrayal is not well-received by her children. They love both parents and the pain of divorce does not heal quickly. Giuliana soon realizes another crisis when Sabrina is diagnosed with leukemia. Now, Giuliana must come to terms with her faith and the costs of love in the modern age. She believes that God is punishing her for infidelity. Bobby admonishes her: "God doesn't punish people, He forgives them. He does test us, and this is your test. Will you keep your faith, or will you fall into the hell of self-pity and guilt?"
"With All of Me II" is a cogently written and moving novel that explores the struggles of a good woman who does wrong. The novel follows a theme from the author's previous work on how our high-tech world provides new opportunities that rewards and penalizes us
PRIMO, the largest independent national magazine for and about Italian Americans, provides quality journalism on Italian American history, heritage, and achievements.
Tell us about your family background? Where was your family from in Italy?
 My parents immigrated to Canada in 1958 from Nicastro, Calabria, Italy. I was born in Toronto, as was my sister. Then in 1980, my dad decided to go back to Italy to live. I was just out of college, and it was frowned upon for young Italian women to live on their own in those days, so I followed my parents and my sister to move to Italy. We lived in northern Italy, around the south part of Lake Garda, for 17 years. My sister and I both married local Italian men. I had 3 children, and my sister had two. All five of our children were born in Desenzano Del Garda, province of Brescia. When my father died in 1994, we began to make plans to return to Canada. In 1997, both our families, along with my mother, returned to Canada, near Toronto. We were thrilled to be back! Unfortunately, my husband did not fit at all well in Canada, and we divorced in 2005. He immediately moved back to Italy. I remarried, this time to a police officer in central Florida and moved there to be with him. I still live there. I still have a very large extended family in Italy and Canada. My two sons live in Canada and as well as my sister and her husband and children. My husband and I will be traveling to Italy this summer, and we are very excited to go!
"With All of Me" is a novel about a woman torn between two men. What inspired you to write this book? At one point in my life, I was like Giuliana: I had multiple online friends and most of them were men. I was also going through somewhat of a mid-life crisis which was hardened by my ex-husband wanting to return to Italy. However, as I wrote, the plot became quite spicy and convoluted, but at the same time, quite interesting. However, I would not call it autobiographical.
How are you alike or different than the main character Giuliana? I am very much like Giuliana. When I began writing "With All of Me", I still lived in Canada so Giuliana was somewhat of a reflection of myself during that time of my life. But as the book evolved, so did I, and Giuliana and I went our separate ways.
Although Giuliana is Italian, she has been full immersed in the way of Canada or America. Is she representative of Italian American/Canadia women? Definitely! She is a very modern representation of an Italian-American or Italian-Canadian woman because she dares to entangle herself with three men as she tries to discover where she's at in her life, trying to balance the Old World culture and expectations with modern American/Canadian life. She's very bold while remaining tasteful. She works hard but also plays hard. She's very independent but she remains a good mother and caregiver for her family.
What are your future novels or projects? I have just released "Her Spanish Doll" which is another romantic erotica set in Northern Italy. Here is the LINK to Her Spanish Doll.
Hangin' With The Web Interviews Joanne!
Joanne's latest book is featured on the Hangin' With Web Show website!  The Hangin' With Web Show is the internet's best web talk show series and features everything the avid ready could want: from Sci-fi to fantasy to romance, horror, non-fiction and historical, they you covered! From the beginning, the Show has covered small press, Best-seller and Indie writers to help readers discover great new reads! and Joanne is so thrilled to have "With All of Me" featured! Check 
HanginWithWeb
 and all the other great authors featured!

Ask Joanne a Question!
Would you like to ask Joanne a question about her current book, upcoming events or new books in progress?  She would love to hear from you!
Our Privacy Statement
& Contest Rules